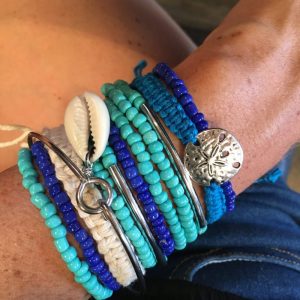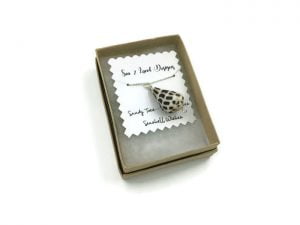 This summer we expanded our jewelry line from our cowrie seashell necklaces to rings, chokers, and lots of bracelets!  So many new options for color and style, that there is something for everyone!
Cowrie seashells have always been extremely popular in beach jewelry.  We started out offering sterling silver necklaces and cowrie pendants; now you can also purchase dainty cut murex shells and Hawaiian Hebrew cone shell pendants.
With the addition of earrings, we have added listings that pair the earrings and coordinating seashell necklaces. We've added 2 cowrie options as stud earrings and a dangle pair.
In addition to our necklaces, we have added a bunch of chokers, from minimalist to beaded, suede and lots of seashells!  Each choker has a variety of color options, and length options so there is something for everyone. Some chokers have coordinating bracelet and ring options as well.
We have created a variety of bracelet styles that are great to stack together, wear separate, or pair with some of your other favorite bracelets.
We're very excited about our new ring options!  Our wave ring has been quite popular and a fun addition to your outfit.  We have added a bunch of new midi rings, even a large 8 piece set that gives you a variety of ring options.
If your looking for a new anklet, we have 2 new options, and a third one on it's way(click here)!  Our beaded anklet with spacer coordinates with our bracelets and chokers, for a complete matching look.  Both anklet options have a variety of color options.
A new category has been added to help shoppers see what we have available for quick shipping.  Our 'Ready to Ship Items' category has items that are made, ready to ship; items will be shipped next business day.  Here's a peek at some of the jewelry that is ready to ship.
Stay tuned for our next post on our new Christmas items!